Since 2012, I had seen this incredible image of a multi-story teahouse with lanterns lighting it up.
I honestly had no idea where it was, but it looked like a place I needed to go. 😂
And then, this year, while in Taiwan… I did.
A photo from Taiwan. It really is magical there. ♥️
After years of waiting, and not knowing if it would line up with my travel schedule, my husband (Silas) made it happen.
We were living in Taiwan at the time (which is honestly amazing and you NEED to go!), and I kept on putting it off. I have this thing where I sometimes get overwhelmed at planning things. So Silas basically just told me, "Hey, I don't want you to leave Taiwan and regret not having visited Jiufen (the village). You need to go soon."
And after doing just a bit of research on what I could do and making reservations at the famous teahouse that first caught my attention, it was set.
I ended up taking a comfortable bus ride for around an hour and a half, passing over rivers, small towns, temples, and cemeteries that stretched up the hills.
You can see the cemetery down below. 🙂

Now this has been the crazy part of becoming a blogger for me.
I didn't believe in myself to be able to blog and make an income from online and travel full-time.
That was my husband who believed in me. I just didn't think I was special enough and that I could actually get there.
But when I did, this whole new world opened up to me.
Where I could stop just seeing cool places online and daydreaming about visiting them and ACTUALLY GO!
And here I was, walking up the steps of the mountain village I had daydreamed of visiting.
But it wasn't a daydream anymore, it was real.
Oh, by the way, I was SUPER lucky to come when I did.
I was living in Taiwan for the first 6 months of the pandemic, and while they had no shutdown (because they handled it early on – they had very few cases and no real scare), people still weren't traveling around the country as much.
Which meant… that I and a handful of tourists had this village all to ourselves.
No annoying selfie tourists getting in the way of the perfect shot; it was awesome. 👌
Also, the peace and quiet was incredible. 🙂
The teahouse I had dreamed of visiting.
And you know what?
Walking through this place made me feel like I was in a movie.
And it makes sense because this was the village that had inspired Hayao Miyazaki's Spirited Away. I can only imagine what he personally thought when walking through this red lantern lined village.
Chihiro from Spirited Away (kind of doing a funny little girl run 😂).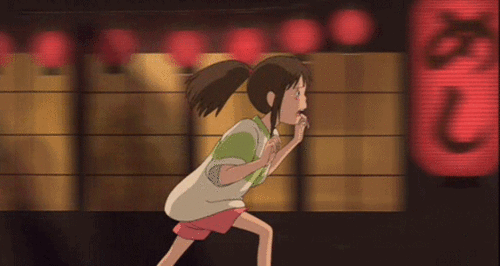 Gif created by Haruhime
Now the teahouse that I visited was called A-MEI Tea House and had me concerned since I wasn't sure if this was gonna be a place that looked cool but was just kind of gimmicky for the tourists. And I'm SO glad I was wrong.
When I went in, I was treated with great service, given a great place to sit with an incredible view, and treated to tea that was REALLY delicious.
Side Note: Sorry if I'm showing you too many images of my tea and snacks. But I couldn't choose a photo I liked best. 😂
Also! I got to experience a traditional Taiwanese tea ceremony and it was honestly so much fun to see her prepare the tea and teach me how to properly serve it to myself once she had left.
I think I stayed there for around an hour, admiring the view of the ocean down below and the village, drinking a ton of tea.
Once my time had come to leave the teahouse, I decided that it was time to do a bit more exploring of the village and its main street.
Also, to try their famous sweet potato balls. They reminded me a bit of dumplings and were super delicious and filling. Also, it was cool to see them prep it. 🙂
And with my dessert in hand, I continued taking more photos (😂) and exploring shops and meeting very kind people.
I loved this pretty neon sign!

Oh, and there was a really cool temple I got to check out. Honestly, this village was full of hidden paths and beautiful places to explore. 🙂
Now, there's plenty of other things to do in Jiufen, such as hiking to Keelung Mountain Peek (which can be seen in the image above), take a 35-minute hike to the Golden Waterfall, or visit Chuen Ji Hall & Jiufen Qingyum Temple.
But sadly I didn't have enough time to do those things and was off, back to the capital, Taipei.
And honestly, I can't wait to go back next time! Maybe I'll stay in a nice guesthouse or hotel, but either way, I'm gonna make sure I meet more of the kind people and see more of what the region has to offer. 🙂
Leaving Jiufen. Bye! 👋
Chasing Foxes was started in 2016 as a way for Grace and her husband, Silas, to start traveling. However, they started to realize that they had a passion for improving themselves, and wanted to help others level up their lives as well. So whether it's with cooking, travel, or staying healthy, they want to help you better your life bit by bit, as they do the same.