Fall.
Chocolate.
Two things that make you feel cozy, brought together.
Chocolate is the perfect ingredient for comfort food (and drinks) + fall means you get to wrap yourself up in a soft blanket, drink a hot cup of coffee, use your fireplace (if you have one), and watch a movie.
The two just work together.
You need it. I need it. It's essential.
And if you too take your seasons and desserts seriously, then I hope you enjoy these ideas for incredible-looking fall brownies. 👌
---
PS – What's your personal favorite brownie recipe? SERIOUSLY. I need to know. Tell me in the comments. I'm in a serious baking mood right now.
---
Related
1. Pumpkin Brownies – The (Tasty) Essential for Fall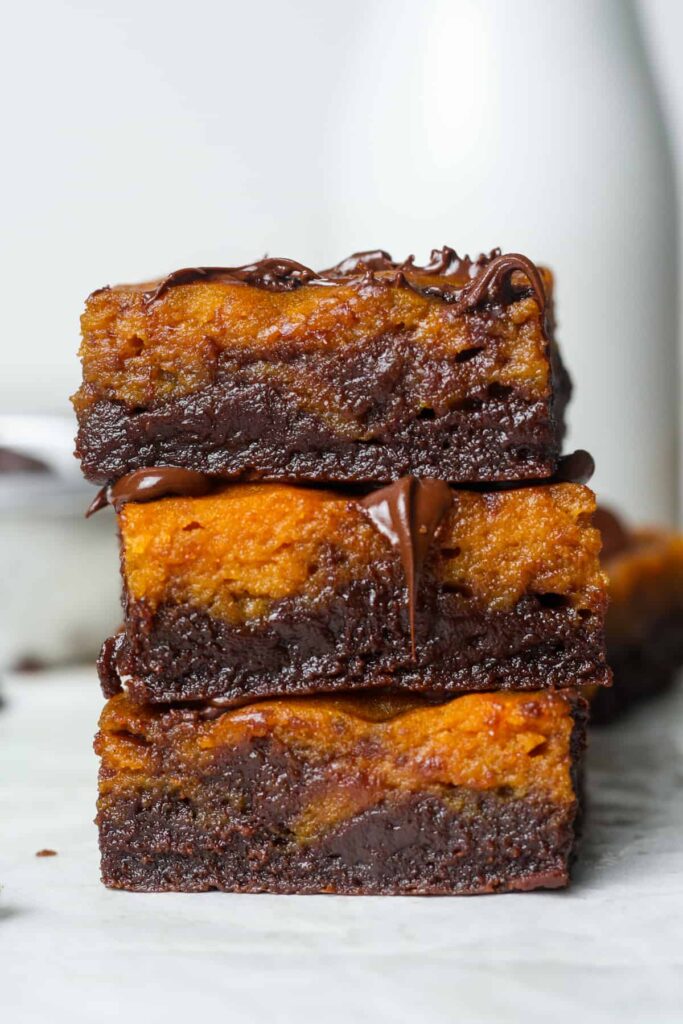 I'd be weird if I didn't include pumpkin brownies, so I'm adding them and putting them right up at the top.
They're the obvious essential for this list, and they honestly look (and sound) pretty good.
2. Apple Blondies – Self-Explanatory
There are two camps here:
Camp 1: You actually go out and do apple picking as a fun activity during the fall.
Camp 2: You see Camp 1 doing this activity on Instagram or Tiktok, think it looks cool, but then get too lazy to do it yourself (I am Camp 2).
Either way, I think we both know that apples are an amazing autumnal ingredient, so I'm putting it on the list.
Also… these just look way too so good.
3. Salted Caramel Brownies – An Autumnal Classic
I feel like salted caramel is a bit of a fall classic. Also, I just trust Pinch of Yum to make an exceptional brownie recipe, so here it is on the list. 👍
4. Espresso Brownies – For That Fall Coffee House Feel
You and I both need our fall moment where we feel like some Instagram influencer with an oversized knitted cardigan, sitting in some quiet big city coffee house, cradling a Pinterest-perfect coffee mug, filled with single-origin coffee that costs $20.
That's what I feel like these brownies would taste like. A perfectly nice unrealistic fall coffee house moment. And I need them.
5. Brown Butter Pumpkin Blondies with Cream Cheese Frosting – No More Description Needed
They're brown butter pumpkin blondies with cream cheese frosting.
They're the kind of dessert you make all for yourself on a cold fall evening, and eat half of them in one sitting as you watch a movie.
That's it. I've called your weekend. This is exactly what you're doing.
Brown Butter Pumpkin Blondies with Cream Cheese Frosting Recipe
6. S'Mores Brownies – Bonfires & S'mores Go With Fall So This One Just Makes Sense
Maybe bonfires and s'mores are more of a me thing for the fall, but I honestly think a warming fire with chocolate works great for the season.
So here's a s'mores brownie recipe if you think it's a fall thing too.
7. Biscoff Brownies – For That Fall Cinnamon Flavor
When you mix chocolatey goodness with Biscoff, I think you've probably found one of the most perfect brownie recipes.
Also, you get this nice cinnamon flavor which is always great for those Autumn feels. And honestly, they seem like the perfect brownies to pair with a hot cup of overly creamy coffee.
Side Note: This Biscoff brownie recipe is vegan (here's a non-vegan recipe), but I went through it and there are no expensive/complicated ingredients. So you might want to give it a try!
8. More Pumpkin Brownies – The Kind You Bring to a Halloween Party
If you wanna feel like one of those Pinterest bloggers who uses those pretty/fancy sprinkles, but you also want something fun to bring to a Halloween party, then here's your answer.
This is the brownie recipe you've been looking for.
9. Turtle Brownies – Great for When You Want That Halloween Sugar Rush as an Adult (Or Just Because)
In general, this just looks like a good fall dessert, but it's also the kind of brownie recipe you make when you're jealous of the kids with the overly stuffed bags of candy.
You get to have candy too… just in a more grown-up satisfying tasty baked-goodness way.
10. Bourbon Pecan Pie Brownies – The Worthy Pecan Pie Substitute for Thanksgiving
This is for when you're either…
A. Hosting Thanksgiving
B. Attending someone else's Thanksgiving gathering
… and you wanna feel a little bit like Martha Stewart.
You don't want to just go with the normal pecan pie; you wanna be extra.
Well this is your moment, and here's the recipe you need for that moment.
11. Matcha Brownies – For When You're Feelin' a Lil Spooky
It's green. I associate green colored desserts with Halloween… or Sr. Patrick's Day.
Either way though, they look amazing, and if you need a colorful dessert for the spooky season, then this is perfect.👌
Side Note: They also give a bit of a fall coffee house feeling too, so doesn't necessarily need to be for Halloween. 🤷‍♀️
12. Brown Butter Brownies – The Name & Ingredients Just Feel Autumnal
And last but not least, this is one of those just because brownie recipes.
The kind you pull out for when it's a cloudy cold day, and you want something comforting and delicious.
Something that has a nice buttery deep dark chocolatey espresso flavor that makes you feel good inside.
---
Whether it's a weekday or the weekend, I hope one (or more) of these recipes made your home smell amazing!
They all honestly look so good, so let me know how it goes!
PS – Make sure to vote which recipe you think looks the best in the comments… or you're not a TRUE brownie fan.
Chasing Foxes was started in 2016 as a way for Grace and her husband, Silas, to start traveling. However, they started to realize that they had a passion for improving themselves, and wanted to help others level up their lives as well. So whether it's with cooking, travel, or staying healthy, they want to help you better your life bit by bit, as they do the same.